My boss's family adopted a beautiful border collie x lab mix over the holidays. They named her Qora, which means "black" in Uzbek. She had given birth shortly before being picked up by the SPCA, and this little girl was so skinny! In addition to a nutritious diet, I figured she could use some special treats made with healthy fats.
Ingredients:
1/2 cup ground flax seeds
2 small granny smith apples with peels on, but cores removed
3 cups whole wheat flour
2 eggs
1/2 cup unsweetened and unsalted peanut butter
1/2 cup water or chicken stock
3 tbsp olive oil
Grind flax seeds in a food processor. Remove the cores from your apples (the seeds of apples are poisonous to dogs), and puree in the same food processor. You should end up with about 1 cup of blitzed apple. Place all ingredients into a mixer and combine thoroughly.
Roll your dough out into 1/2 inch sheet and cut into the desired shapes.
Bake at 350 for 25 min.
Store in fridge or freeze.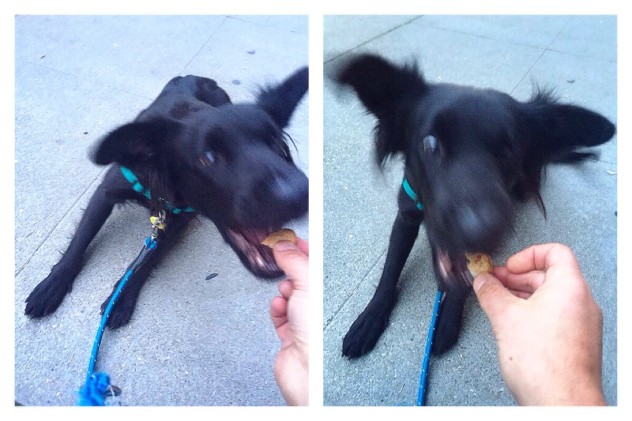 These cookies are really high-value (blurry photo evidence of Qora's excitement above!), but remember that since they're higher in fat content, you'll want to limit the number of treats you give your pups.